Logging in for the first time
The first time you start up Pops you may see a message saying that you are running a demo version. This is because you are in your 90 day money back window, however rest assured you have complete functionality and will get your own license after the 90 day period is over.
SET UP YOUR WORKING ACCOUNT
Once you have downloaded the Pops Royalty Manager installer and installed Pops Royalty Manager onto your desktop, you will be prompted with a logon screen asking for an Account Name and Password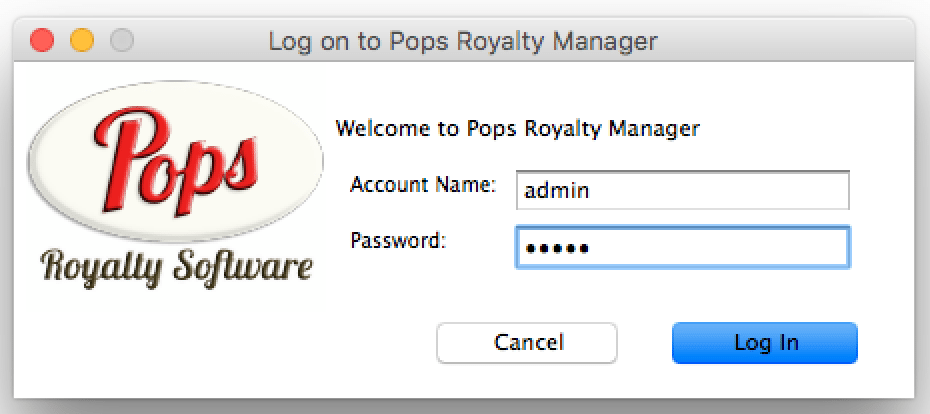 The default login information for new users is admin/admin (lowercase). Type 'admin' for the Account Name and then 'admin' again for the Password and click the Log In button.  There may be a short time lag to setup the Pops Royalty Manager application environment and this is normal.
Once you are logged in you can change your account information by going to the tool bar and selecting 'preferences' on a Mac or 'properties' on PC from the top menu and then from the preferences panel select 'users'. Choose a name and password you can remember and write it down in case you forget.
You may also add accounts for any others who assist you in the business and will be using the Pops product. For example, this could be your partner, secretary or bookkeeper. Doing so allows the program to track who made changes to what records. It also allows users of the Enterprise Edition to logon concurrently.
DATA ENTRY HINTS
To make a new entry look for the plus + symbol located in the bottom left hand of the Pops window
It helps with data entry to focus on one property the first time through. Enter all the information, as described in the following text. This will help you "get the picture" of the business work flow. Later you can add documents in any order that you wish.
Begin with title documents. These represent your inventory. For each deed, enter in a name for it, who owns it, the "grantee", and the land description in the "Tracts" list. This is the minimum required data to get started. It is best to enter as much detail as you have, such as recording date, grantor and so on. These bits of information will be helpful in the future.
Next enter your leases. It is fine to start with active leases but you may want to enter all you have to create a history of the action on your property. You can add companies and contacts as you go along. Leases require a land description just like Titles.
Enter the statements of interest. These may be division orders, spacing orders or unitization agreements. These documents hold key information to verify that you are being paid correctly.
As you go along, you can add wells. There are companies that provide well data in bulk. If that is useful to you, we can help you get the bulk data imported into the Pops Royalty Manager database.